Beer Festival 2016 Do you like to socialise, enjoy a drink ? Come along to our …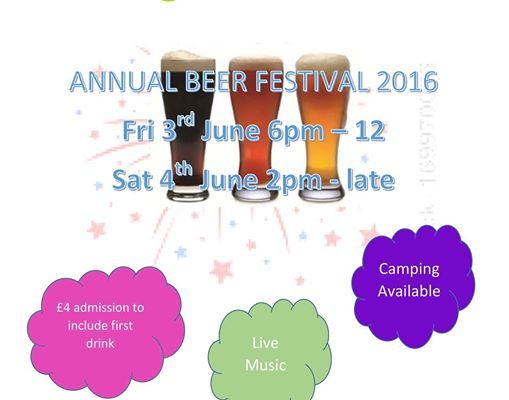 Beer Festival 2016

Do you like to socialise, enjoy a drink ? Come along to our annual Beer Festival
Friday 3rd June 6.00pm to 12.00 and Saturday 4th June 4.00pm to 12.00
Strictly no under 18's this weekend, Overnight camping available at Blackhills tariff
Details for our beer festival are now well formulated, we were a little late booking new commemorative glasses, so this year entrance will be just £4.00 and that includes your first two halves !!
You can expect to see on the bar the following beers :
Bingley Brewery JamesTown 5.4% Wow.
Wishbone Brewery Blond 3.6% Good session ale
Salamander Brewery Collosus 4.2% Easy drinking
Goose Eye Brewery Wonkey Donkey 4.3% Classic
Naylors Brewery Pacific 5.00% U.S.A. pale
Haworth Steam Brewery Rascal 4.1% New
Salamander Brewery Porter 4.8% Traditional Dark
Bridgehouse Brewery Summit 16 4.0% Blond with citrus
Naylors Brewery Two Halves 4.00% Smooth
Old Spot Spot Check 4.3% Rare outing
Our ticket system is £1.25 for a half pint, buy 4 for a fiver !!
In addition we have bottled ales ( in case we run out of cask ) lagers, Guiness and pop.
Entertainment both Friday and Saturday evenings,
Food at reasonable prices available from 6.00 – to 8.00 ( Or till we run out ) get there early.
See ya there folks !!!
https://facebook.com/profile.php?id=1716921681913514