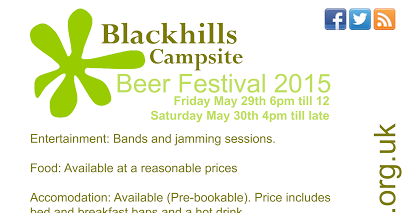 We are holding our 4th Annual Beer festival from Friday 29th May 18.00 till 12.00 and Saturday 30th 16.00 till late (or the beers run out) BUT it's not just about Beer.
Yes, we will have 10 locally produced beers of varying strengths, we'll also have a jolly nice ciders, boxed and bottled, a choice of red and white wines, and a selection of soft drinks for those who prefer, (of those chosen to be dedicated driver ).
We have promises of musical groups and talented individuals popping in through the event to entertain, as well as food being served (Friday 8.00 to 10.00 and Saturday 4.00 to 5.00 and 8.00 to 10.00 ) all at very reasonable prices.
Accommodation is still available (pre-book please 07790 018713 – Wendy ) offered with a breakfast bap and drink, just £5.00 per night.
We shall also be supporting the relief effort in Napal, especially after the second quake this week, optional, but watch out for our tombola, raffle, and lucky domino card through the weekend.
On this occasion the site is closed to young people, so please take this opportunity to come and relax and refresh your batteries especially after all the hard work that went into BIG CAMP 2015.
Entry to the Beer fest is just £5.00, which gives you a commemorative half pint glass, and two drinks at the bar (though not Spirits, sorry).
When
Fri May 29 6pm – Sat May 30, 2015
Where
Blackhills Scout Campsite @ Bingley, West Yorkshire BD16 1UB