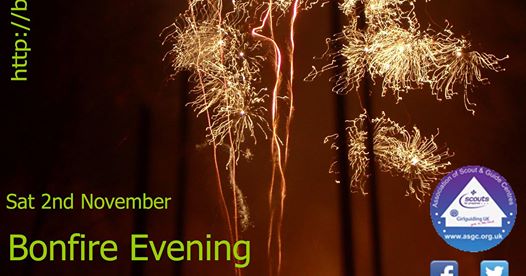 Bonfire Evening,
SATURDAY NOVEMBER 2ND
Starting with top gate open at 6.00 p.m. entry for all is £2.00 per person, and as this is NOT a general public event, we would ask all those who are members of the Association please wear their neckerchiefs for ease of identification.
You are welcome to bring sparklers, but please ensure young people are supervised whilst these are lit, and dispose of carefully.
ANY FIREWORKS YOU BRING ONTO SITE, MUST BE SURRENDERED TO THE DISPLAY STAFF TO COMPLIMENT THE FIREWORKS BOUGHT FOR THE EVENT.
All our event staff will be wearing reflective vests or jackets.
FREE Parking will be available ( as directed ) in the top fields, please bring a torch with you, so you can negotiate the track down to the Car Park.
There will be opportunities to buy drinks from the bar at very reasonable prices, including cask ale, ciders, lagers and soft drinks.
There will be a selection of sweeties from our providore on a stall, complimented with glow items, beer fest souvenir glasses etc.
We will be selling tickets for our famous food choices at 1.50 each , so please purchase them as early as possible to avoid disappointment.
The food on offer includes QUARTER POUND BURGERS with the trimmings,
Finest ANDERTONS PORK PIE AND MUSHY PEAS,
SMALL SELECTION OF VEGETARIAN OPTIONS,
DELUX JUMBO FRANKFURTER HOT DOG SAUSAGE with the trimmings.
Once you have your ticket, food can be queued for in front of the decking, adjacent to the EATON CENTRE, please be patient at busy times.
Our Bonfire will be lit at 6.30 ( hopefully promptly ).
We have also invited Scout Groups to put on stalls, to keep young and old occupied ( at take a few coins towards a good cause out of your pocket.)
Our fireworks will be lit from the top of the climbing tower, from 7.30……..Enjoy !!!
Following the display, the bar will remain open and the bonfire will still be fenced for safety reasons, we wish you all a really good night so far, a very safe journey home and see you again in the future.
———————-
John Reynolds
BLACKHILLS SCOUT CAMPSITE
Bookings 0845 094 8894